T
his week we have been working writing our full names in cursive.
We practiced writing our full name in cursive.
We drew lines on our poster very lightly on final copy..
Next we filled the paper with our full name switching between cursive and printing.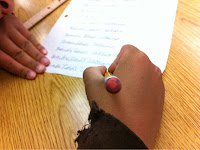 After writing out our full name in pencil we went back and inked it. Then we erase our pencil marks.
The last step will be drawing, coloring, inking and
cutting out our initials and gluing them onto our poster.
L
ater we'll talk about our names and the stories behind who we were named after.