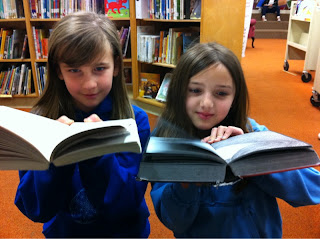 Unless your kid is a speed reader, make sure they are choosing
books they can read in a week.
I

t is the end of May. We, and when I say "we" I mean parents, kids and myself, have been working very hard on homework all year long. As the weather warms up (hopefully) the days are getting longer, and your 3rd Grader is involved in after school sports and activities, summer is just around the corner.
You have probably noticed that homework packets are no longer coming home. What IS coming home are Book Reports. Your 3rd Grader is getting these on Friday and they are due the following Friday.
Reading along side your child
is just as important as reading with your child.
Penelope hasn't learned about just right books yet.
You can help your 3rd Grader by making sure they are reading a Just Right Book It needs to be a realistic fiction or fantasy book they can read in a week. Can't find the Book Report? Just let me know, I have plenty of extras.
Give your 3rd Grader a jump start into 4th grade, keep up the healthy habit of reading with your child over the summer.